just finished:
The Calder Game
reading next:
Cracked up to Be


On occasion, such as this one, there will be children's books featured on this blog. Blame my children's literature class, it has me reading kid books again :)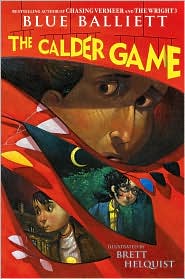 The Calder Game

written by Blue Balliett, illustrated by Brett Helquist
I'd read
Chasing Vermeer
and
The Wright 3
prior to reading this book.
Chasing Vermeer
always struck me as boring, while I rather enjoyed
The Wright 3
. Now, onto the third book,
The Calder Game
, I found it interesting, but it definitely had its moments of spottyness. Maybe it's because the children were separated. In
Chasing Vermeer
, the only characters involved in the story were Petra and Calder. In
The Calder Game
, it's all Petra and Tommy, until the last few chapters. In
The Wright 3
, the one I liked most, all three characters were together and interacted a lot with each other. I did like seeing some new (and some old) characters, though. Learning about Walter Pillay, for instance, was interesting. Banksy was another amazingly interesting character, and, while not much was told about him, I was intrigued to learn that he is a real person. Plotwise, I found the book to lack movement until the stories of Art Wish and Banksy were given. Before that, it was really hard to plow through the same old thing for several chapters, overwhelemed sometimes with irrelevant factual knowledge that seemed highly out of place in this work of fiction. I felt like a lot of things could have been left out, and the vital Wish-Banksy stories could have come in and moved the plot forward much earlier. The characters had their unrealistic moments, but Balliett writes those very often; it's become the norm for her, I suppose.
Rating: 4/5
I found a note inside this book (it was a library book). I love finding things inside books. I've found plenty of library receipts, post-it notes, a bookmark or two. This one read:
"Sophia
take laptop to school."
on one side and:
"and put the trash on the curb (crossed out "on Sund") for Monday
--Katharina"
Intriguing names, no?
Have you ever found anything interesting inside a book you were reading?